Page
NCRM introduction for Moodle course participants


Welcome to the NCRM Moodle platform at https://moodle.ncrm.ac.uk/ Moodle is the online learning platform used by NCRM to host online courses. When you register for an NCRM online course we will create an account for you on Moodle and you will receive an automated email inviting you to login. This will come from NCRM (via NCRM Moodle) – if you do not seem to have received it, do check you are using the account with which you registered for your course, and also take a look in your Spam email folder. You will be issued with a single-use password that must be changed the first time you login.
If at any point you forget your password, you can use the forgotten password link on the Moodle home page, which will reset the password and generate an automated email to the email address you provided when you registered.
Before your course commences, you will receive a separate welcome email from an NCRM course administrator, with any specific information about your course. If you have administrative or technical questions, or are unable to access Moodle at all, please email the NCRM team at info@ncrm.ac.uk and we will do our best to assist you.
The only personal information about you that will be used within NCRM Moodle is your name and email address. Our present policy is that your account on Moodle itself will remain active for one year from registration, meaning that you should be able to return and look at the course materials and discussions. You will receive a notification email a few days before your account is due to be deleted. NCRM's general privacy notice can be found on the main NCRM website at https://www.ncrm.ac.uk/about/privacy.php
Once you have logged in to Moodle, you will be presented with links to any courses on which you are currently enrolled – this view is known as your Dashboard.
To access a course, click on the course links from your Dashboard. You will then be taken to the main content of that course.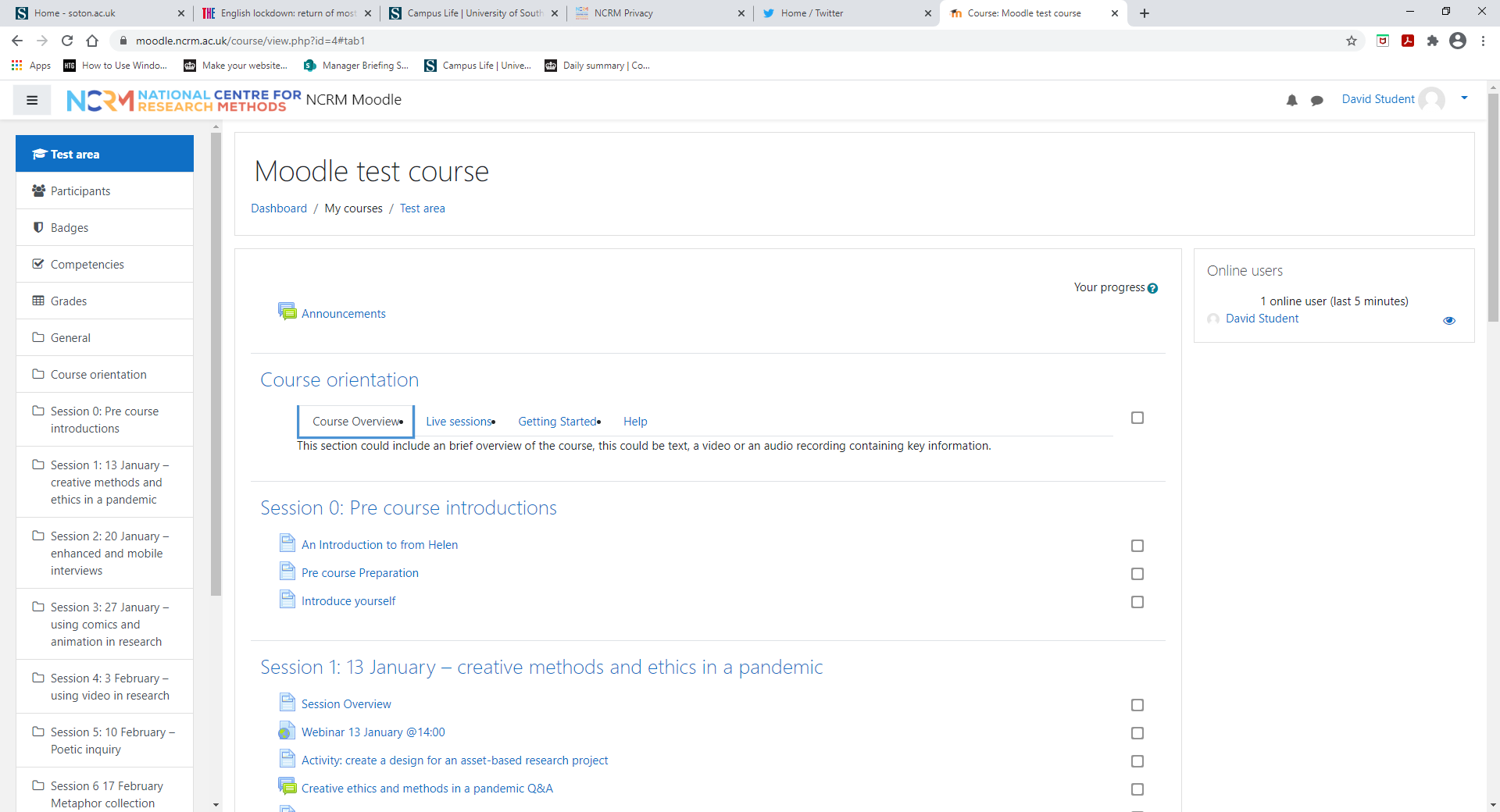 Courses are typically arranged as a series of sessions, each containing content such as documents, links to online events (using a platform such as Zoom), suggested activities and discussion forums. When you first join the course, look out for any orientation information provided above the first session. It is intended that the material in Moodle will support the online events hosted by the course leader and you should look out for any recommended preparatory and follow-up activities. Some course leaders will add to the detailed content within each session as your course progresses.
The detailed content will vary between courses, but there are likely to be discussion boards to which you are invited to contribute and interact with the leader and other students – these can be a really helpful place to ask questions and gain feedback. While courses are active, other NCRM support staff may also participate in these discussions to answer questions and provide guidance, particularly about the use of the Moodle platform itself. Moodle offers a very wide range of tools and services, only a few of which are likely to be used within any one course.
At the top right of the screen you will see your username displayed and a downward pointing triangle. The triangle allows you to access some additional settings and to logout. The Preferences link provides options such as customization of email notification you receive from Moodle (for example, regarding posts to discussion forums of which you are a part) and to edit your own profile and change your password. The Profile link allows you to manage your own profile, including your linked email address.
The left hand menu can be viewed or hidden by clicking on the menu icon (three horizontal bars) at top left. This provides an alternative way to navigate through the course content and quick links back to your personal dashboard and the site home page.
Last modified: Tuesday, 9 February 2021, 10:33 AM